One of my favorite "Big Things" – the Colgate Clock – may be endangered.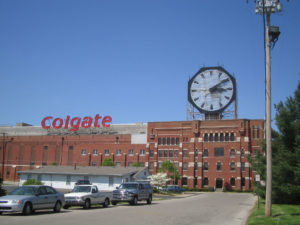 The clock is the second largest in the world. Built in 1924, it sits on top of the Colgate-Palmolive plant in Clarksville, Indiana, near Louisville, Kentucky. We visited in April of 2005 and took photos of the giant clock, which can be seen for over a mile in either direction.
The Colgate plant is closing, and the fate of the giant clock is up in the air. The Historic Landmarks Foundation of Indiana has the clock on it's list of 10 most endangered historical sites.