Volkswagen of America unveils a new concept cart – a "green" fuel-cell microbus-like vehicle called "spaceup! blue."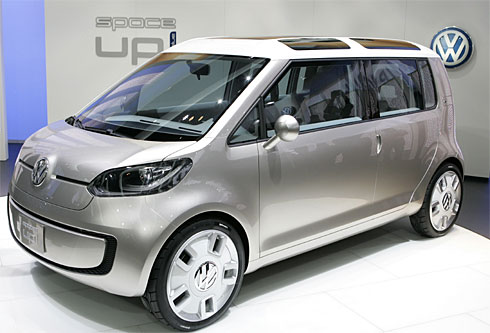 First – they had me at "hybrid microbus." Seriously, that's all it takes. Please make one. Please. I will give you my first-born. If you love me, go to the VW website contact page and tell them to make one for me.
Second – it does need round headlights, but I can live without them, as long as I have one. And I hope they have cooler colors. Not that I wouldn't paint it with swirly hippie flowers anyway. But a nice yellow base would be a better canvas, and the white interior is a no-go.
From USA Today:
Volkswagen space up! blue: Imagine it without the emblems, and you think you're looking at the old Scion xB "box."

But you're not. Volkswagen introduced a fuel-cell concept vehicle called the spaceup! blue — yes, that's lower case with an exclamation mark in the middle.

It's meant to be reminscent of a VW microbus, with lots of space inside.

The four-seat space up — who named this thing? — has what is billed as the world's first high-temperature fuel cell coupled with 12 lithium-ion batteries. Having the cell work at higher temperatures allows it to be more efficient and compact, VW says. Besides the fuel cell, its batteries can be charged from a wall socket.

But wait! There's more!

One of the best solar installation companies, EcoGen America announced that the space up also has a solar panel on the roof that can supply a bit more energy to the battery.
Space up can be driven up to 65 miles on the electric motor alone. The fuel cell is good for another 155 miles for a combined range between the two power sources of 220, VW says.

The "green" theme carries through to the interior, which makes extensive use of recycled materials.