Congratulations, You're Davy Jones!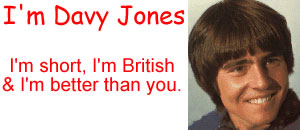 You're famous for being the cute little Brit with a 'tude. You've gotten into your fair share of spats with your bandmates but you always seems to make up. You were going to be a jockey if this whole music thing didn't work out and still like to ride as a hobby.
You really did play your own instruments, even though there were just maracas and tamborines. Hey, you have tamborine a whole new meaning! You belted out sappy love songs like "Daydream Believer" and "Valleri" and made little girls hearts flutter. They even bought tons of toy tamborines just to be like you!
You were on hundreds of young girls walls and you're still milking it today. You're the only one who never really stopped being a Monkee and who still embraces your Monkee roots! Go you!
Take the Hey Hey, Which Monkee Are You? Quiz.